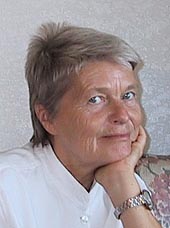 TRAVELING THE WORLD, I carry a powerful reminder in my consciousness: I AM IN SCHOOL, wherever I am. I happily live my philosophy.
For six weeks Dr Herbert L Beierle, dean of the University of Hea- ling, and I crossed three continents: America, Europe, and Africa. In an indescribably breathtaking journey we enjoyed ourselves to the utmost. For me making plans for the journey started many months before. I saw this journey accomplished in all its details. Now with e-mail, fax and cellular phones, it is much easier to make arrangements with our friends in Nigeria and Ghana than it was prior to my visit in 1994.
As we arrived in Europe I spent one week in the south of Switzerland, with my two children and six grandchildren, visiting old friends and UNI students, and a bit of nostalgic strolling along the streets of Lugano. The shops are magnificent though I am no longer drawn by their elegance. I am always in the School of the Masters.
Sunday my family and I climbed to the Alpine hut on Mount San Lucio. For 90 minutes we hiked through the colorful chestnut forests. Two of my grandsons with their father rode their bikes up the mountain. Ten-year-old Martino, his dad Massimo and his older brother Marcello proved equal to the marathon. With a peaceful heart I saw each genius successfully making the trek--part of my newly positive trained attitude.
I had another lesson from my always being in school when I visited my ex-husbandís mother, Marta Jermini. She looked glorious. I was blessed to arrive on her 96th birthday to share my love with her. We spoke heart to heart. I saw her happiness as her delight sparkled from her deep blue eyes.
Flying around continents is fun--when I am in charge. Before any take-off it is my practice to surround my transportation with my pure white light of love. Punctually we landed in Lagos where as in 1994 our two students Franklin Okwerri and Prince Charles O Okoro welcomed us to Africa. They hosted us in Charlesís Lagos home and made sure that the following morning we were able to depart from their extremely active airport. We had only fastened our seat belts as the plane immediately took flight, landing at Port Harcourt one hour later.
What a joyous reception! There was radiant UNI student Sybil E Agogbua with her lovely crew: her husband Dr Sam, her cousin Grace Nwansi with her 5-year-old son Chideberry, and the 13-year-old daughter of Sybilís sister, UNI student S A Ilavbarhe, director of Oku Study Group accompanied by one of his beautiful daughters, new UNI student Rita Theophlius and the remarkable student and genius Joezer Peter Ejuku as well as Okey Ukwa and Emmanuel Emevom dynamic church members of Sybilís church. They all came from different states in Nigeria eager to meet Dr Beierle and myself at the airport. We showered our blessings on them with big hugs and tons of love.
I met Sybil and her husband in 1994 during my talk I gave at the Unity Church of Owerri in the Imo State. She felt illumined listening to the University of Healing teaching of I AM GOD, GOD I AM, and instantly knew this was the truth for which she searched. Her sincerity and eagerness to practice living as God, gave her the dedication to take the UNIís spiritual studies. Doors opened as she consciously used the principle. She and her husband built the Villa of God Unlimited, a mansion in the jungle. Here we were lovingly hosted during our 10-day-visit.
I felt happy and honored to be present at Sybilís ordination. With a blissful heart she pronounced her vows as a minister of the Church of God Unlimited. Though her celebration was hardly announced to the public, hundreds of people came from everywhere to sing with her: I AM GOD, GOD I AM. These uplifting chants echoed into communities and cities throughout the entire country of Nigeria as a new positive attitude about themselves and their government were widely spread through our meetings and the media including television nationwide.
To meet new faces is charming but to embrace our old students especially Franklin, Justin, Abraham and Templeman from Aba gave me a feeling that time does not exist. In 1994 Franklin Okwere and his wife Fin generously hosted me in their apartment in Aba in the Abia State. They introduced me to many friends and students of their Radiant Light Center, a lovely group of metaphysically oriented people. I also met their friend Justin Okpe, director and owner of The Alpha Institute in Aba who was eager to personally meet UNI dean Dr Herbert L Beierle. We spread our pixy dust over three hundred scholars and their teachers and ended our cheerful session with happily singing I LIKE ME and I BLESS NIGERIA.
Another inspirational sharing time we lived at the elegant Soul Christ Light Center lead by his founder Sir A B Daleth (whom I previously met) We also met his charming wife and his four magnificent children as well as with his beautiful congregation.
Dr Beierle and I conducted seminars and lectures in churches, schools civic centers, universities, hotels and private homes where each presentation was an adventure in itself. We met the friendly, generous, kind Nigerians who represent their country to the finest. An unforgettable event remains for me of the thousands of school children who sang for and with us, joyously clapping their hands: I LIKE ME, I LIKE ME, I LIKE ME and I BLESS NIGERIA LAND THAT I LOVE, I STAND BESIDE HER AND GUIDE HER FROM THE NIGHT WITH THE LIGHT FROM WITHIN, FROM THE MOUNTAINS TO THE VALLEYS, FROM THE OCEANS WHITE WITH FOAM, I BLESS NIGERIA, MY HOME SWEET HOME. They would not allow us leave surrounding us in big circles while giggling and laughing always trying to touch us to see if we were for real. Their innocent happiness and smiling eyes were my greatest daily blessings, my certificates of reward!
Traveling through Nigeria by car is a "school test" in itself. My every moment practice was to remain untouched by the road conditions which sometimes offered unexpected surprises. It was my joy to bless everyone of our skillful car drivers who drove us around this heavenly lush countryside; yet, on the busiest bridge in center of Lagos the engine of our taxi died. Instantly the driver got out to push his cab through the rush hour traffic. We had a trunk full of heavy suitcases deman- ding helping hands. In all the apparent confusion I silently said: All is in divine order, remembering I am in school. A perfect taxi stopped nearby and brought us to the airport on time.
Our Journey Continues
in Ghana
OUR PLANE FROM Lagos to Accra landed at 11 pm. Then we continued by car to Secondi, which during the night took four hours before we arrived at the West Coast. We arrived at 3 the following morning and had been proven ourselves to be indefatigable on our long day. At the airport we were welcomed by our students Emmanuel Boye from Accra and Andrew Aikins from Secondi. The roads from Accra to Secondi were heaven-on-Earth with respect to what we experienced as surprises in Nigeria. To remain in line with my duty of being a disciplined student, I created a flat tire on our car, in the darkness, in the middle of nowhere. All is in divine order is the remedy for every challenge in attitude for me so I manifested the tire fixed in the fastest way I have ever experienced in life, even as we sat in the car.
Andrewís ordination on Sunday as a Church of God Unlimited minister was a highlight on our visit to his hometown. We experienced an amazing practitioner in the Rev Andrew who loves himself and his world to the point that everybody came to participate in his programs. They all were intensely interested in what we shared in our talks. His family and extended family include the new born babies as well as the eternally young grand-mothers and grand-daddies, eagerly following the loving example of their minister Rev Andrew.
Student Emmanuel Boye was proud to host us in his three-room apartment in Accra. In all humility he offered to iron our clothes, to clean our shoes and make sure that we were treated comfortably at any place he accompanied us. He has grown spiritually since I first met him in 1994, into a gentle divine young man. Emmanuelís dream is to become a monk in the Absolute Monastery. It will be seen how sincere he is in his dearest dream. He knows it is done by his thought and attitude--as he too is always in school.
Dr Beierle and I surprised Captain Goodwill Kakla with a visit. He was my host in 1994. It was a delight to see the Captainís son--I called him little Genius in 1994 and how he grew up to my expectation. Today he is the pride of his father: a responsible, gentle, wise young boy just as I keep him in my heart who is since then called "Genius."
I missed to introduce Dr Beierle to Mr Sazrar Opata of the Institute of Management Studies in Accra who was out of town the morning Dr Beierle and I gave an educational talk before his school. The young students of his school were ready to be reminded that THEY are the creators of their dreams, of their ways of life and their world and that they are the new generation of a wealthy, well governed Ghana.
I always enjoy to share with Rev Sasu, founder and leader of the Center of Spiritual Awareness, in Accra, a youthful, always smiling man with whom we spent many joyful hours in and outside of his center. His life is an example of his teachings and therefore reflects pure success in whatever he does.
Many of our experiences during our world-journey could have been defined as a challenging school test, yet our entire stay in Nigeria and Ghana was a pure delight, a rewarding outcome of what I had planned initially. I am always in school, wherever I am, it is fun as I am in charge.
-Dr Ellen Jermini