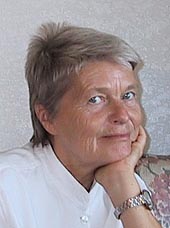 Soul vibrating blessings which illumine my everyday tasks are my many daily experiences.
Yesterday I drove to town for a few errands. Each journey is always full of excitement and unreasonable enthusiasm. I happily sing as I drive and affirm, all is in divine order.
Passing the managersí desk as I left the grocery department, I heard a lady giving friendly comments to the supervisor. As a gentle breeze, her lovely words touched me. She joyously smiled: "I love to shop in this store. Everyone is so kind."
Instantly I turned to see who was giving that gratifying observation. In front of me stood a vital sparkling silver hair lady standing by her shopping cart. The little senior citizen wore a light blue woolen sweater in perfect match, complimenting her angelic love-filled eyes.
How lovely of you to give the staff your appreciation. I leaned over to confidentially share with her my delight.
"I am 93," she giggled. "I love life. I am thankful to be alive every moment."
Wow, I answered, you are wonderful! Your shining eyes reflect your positive attitude and mirror your magic way of living. You look good, you look young, you look absolutely fabulous!
"You are a very dear lady." She reaches out to take my hand in her motherly way of caring. "I am so happy I met you." Her love and expressions are boundless as she continues to tell me how much she appreciates the fact I took time to tell her what I thought of her.
I met an angel. She is my reflection and she assured me I was her own inner magnificence. What a blessing for me!
Unceremoniously we parted but the glow of divine love I felt that day numbered among my unlimited blessings.
-Dr Ellen Jermini