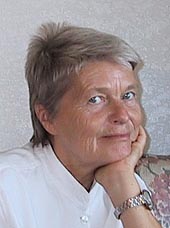 LIVING AT THE University of Healing in the Absolute Monastery I esteem my daily schedule which includes quiet times for personal meditation and introspection. One such uplifting reflective hour is very special to me, it is the highlight of my day:
Climbing The Mountain
VAST IDYLLIC BML (Bureau of land Managment) land and many acres of Indian Reservations surround our one hundred acre campus and meditation trails in the High Desert of Southern California. Here I have opportunities to go on introspective walks. I stroll for miles over the rugged mountains and valleys, away from humanity, embraced in its deep silence.
The morning sun smiles graciously from the clear blue Californian sky inviting me to a glorious day.
With unrestrained enthusiasm I sing out joining the chirping birds. I hum to the rabbits here and there and their little hopping bunnies innocently crossing my path. Along my way I hear the rocks reflecting the sound of my voice as I sing my song of love to them. They come alive! I whisper my melody to the resplendent desert bush and greenery, an echo of my spirit. I sing:
The hills are alive with my thoughts of music
These thoughts that I hear
From the depth of my heart.
The hills are alive with my thoughts of music . . .
Divine songs I enthusiastically create from within.
The first part of my upward path into the mountain fastness traverses ever so slowly the steeply climbing meditation path. It is a perfect opening to my introspective mountaineering trip. Vigilantly I set one foot after the other synchronizing my walk with the rhythm of my breathing. It is like a gospel of nature murmuring to me while I chant my affirmations of truth.
I LIKE ME, I LIKE ME, I LIKE ME!
Every sentence vibrates in and through my body refreshing my feelings toward my world. I magically flow with the pace of this glorious moment and easily reach the top.

My Lush Valley

HERE AT THE SUMMIT, at the very peak of the mount, I pause to enjoy the magnificent scene. The view is over our Far Valley, the plane once the site of an old Indian village of Campo in the background, the surrounding hills and mountain chain is everlastingly breathtaking. Five hundred feet below is our valley paradise of the UNI campus with its six major buildings. Three creek beds twist along golden pastures among evergreen pine and Live Oak trees, white blooming manzanita bushes and all kinds of desert plants. My eyes follow the many beautiful meditation paths. We, the monks of the Absolute Monastery, lovingly created each meditation path covering miles of the campus during our creative time. We put lots of love into our imaginative paths over many hours embellishing the special UNI grounds.
I bless my beloved campus home and shout into the heavens, I surround you the UNI campus with my pure white light of love. Vicariously I lift my wings and fly all over mountains and valleys, spreading my pixy dust of divine love. I include in my blessings my neighbors, David, George, John, Claire, Art, Julie and all those living in and around the village of Campo. I extend my love thoughts further unto all adjacent communes near and far. I speak my word of peace and harmony for the city and the county of San Diego, yes to the golden state, my beloved California and to all America including the entire world. I behold good in all its majesty and glory, vibrating from my inner enthusiasm-god within. I see peace on earth as it began with me.
My trail winds up and down, through deep valleys and tall foothills, imposing decorative rock formations depicting all manner of charming figures. I giggle from within, happily jumping and singing along my way. The hills are alive on this soul-vibrating morning and mere shadows of vain thoughts fade into nothing. The air is calm and serene leading me spontaneously to my inner silence. No sound other than the melodies of my thought ring out wherein I let appear all my beloveds as my gentle, generous, glorious mirrors. The profundity of nature in its simplicity keeps me in awe to my divine character. In this depth of silence I hear the source of love, peace and harmony. I see my family and friends in Germany, Switzerland and all over the world joining me in this choir of a blissful morning floating from one land to another like a bee from flower to flower. The nectar of divine sweetness wraps all my world in one vicariously big air balloon and off I go in oneness into the neverneverland where is no judgment, possession nor emotion.
I Bless My Body

YES, THE HIGHLIGHT of my day is filled with positive affirmations, the song of my heart, with every melody that floats through my mind.
I bless my body the temple of the living god and say, I love you, my sacred temple. I see every cell of this divine temple reflecting and living new as the pure white light of love, totally harmonious with god that I am.
What an exciting time I have on my morning walk through the Southern California foothills at the Mexican border, being alone yet being all one. My highlight of the day is living every moment in the here and now.
At peace and one with myself and my world I return from my morning walk and begin my masterpiece as I AM IN CHARGE of this miraculous day.
-Dr Ellen Jermini