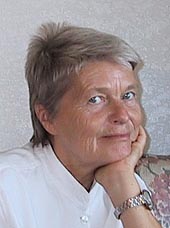 CHRIST CONSCIOUSNESS
DWELLS IN EACH OF US!
IT WAS A BUSY Spring Saturday afternoon. I was standing in the checkout line in the drug store. Around me endless rows of people patiently waited to pay for their purchases. To my right I noticed a shopping cart carrying a sweet little two year-girl. She stood there so selfassured. Her baby charm powerful! She stood there as if she were a Sunday school teacher. I could not take my eyes from her. She was in charge from her teaching stool. She beamed of joy and was a pure delight.
As I looked at her she intuitively turned her head towards me. Her hair shimmered golden. Two bright blue simple eyes stared at me with her innocent lovely smile. I was tempted to talk to her while watching her gently dance in her pink-white checkered apron dress. I held off. What a cute angel, I thought to myself. I was a bit nosy. I thought, what was the connection between her and the lady who pushed her cart, a motherly ageless type woman. Is she the mother, the grandmother, the Nanny? I asked myself.
Someone behind me, a lovely caring girl in her twenties, dressed in a white blouse and tight fitting blue jeans, was attracted to the toddler too. We both kept staring at the youngster, speechless and full of wonder.
Gently the lady leans over the cart. She snuggles close to the toddler. "Hi there! My name is Monica, what is your name? You are a pretty little girl, such a pretty girl."
Everyone's attention is now on the child, of pure sunshine.
The blond charmer giggles selfcontently.
"What is your name," Monica asks again, puzzled, turning her eyes to the lady behind the cart.
"Natasha is the child's name. It is a Russian name." She answers in a most friendly tone!
"What a beautiful name!" Monica remarks as she caresses the baby's tiny hands.
I think to myself, She must be her Nanny, how lovingly she cares for Natasha. "Natasha was born in the Ukraine. Two months ago her new mother, a doctor, went there to pick her up and adopted her."
How smart that doctor is, it flashes through my mind, she found a bundle of purity and innocence, she brought home a Christ child.
The Nanny continued, "Natasha chose her mommy herself. From all the women who came to adopt one of the children, it was Natasha herself who pointed her finger at her new mummy. Natasha was determined in her choice. She was ready to fly away home to America, to a land of unlimited beginnings. What a good creator!"
Everyone in the checkout line fell in love with Natasha. She knew what she wanted out of life and she moved heaven and earth to get it. She is selfconfidence; she is an example of being herself.
In delighted surprise I call out, "What a coincident! Natasha is born in the Ukraine? I am going to visit the Ukraine in two weeks. I have booked my flight to Kiev! She must be an angelic messenger of purity."
"You are flying to the Ukraine?" an elderly gray-haired man speaks up from the back of the line. "You dare to fly these days? I would not count on flying for now, not with what has just happened to our four planes."
For a moment I gave a mischievous smile to the anxious man. I answered, "I believe in prayer! I always pray. I think positive thoughts and believe in my uplifting affirmations. I thank you for your concern! I love life and concentrate on life. I pray and I believe in my prayer. You refer to September 11. I believe, had each of those planes one person in quiet dedicated prayer put the cause into motion: 'All is in divine order. We now land perfectly,' it would have been so.
"It was a tragedy in precious human life. It was a travesty in fear and loss of confidence in ourselves.
"However, we believe that prayer works, that prayer is communication as god, listening to our indwelling thoughts."
Silence reigned as each absorbed the healing message.
-Dr Ellen Jermini