GIST - May 2002 Issue
On Giving a Gift
GIVING A GIFT is an uncomplicated act. I have a desire to give a gift and so I just give it. However, it is not that simple.
The question comes up, does the other person want the gift I am giving? What is my motivation in giving the gift? What sort of response do I expect from the person to whom I am giving the gift? Does the gift fill a need for the other person? Will the gift cause a rift in our relationship or will it be lovingly accepted in the manner in which it is given?
I have an entirely selfish way of giving. I do not call it a gift. I just say, "Here, enjoy!" Then I exit quickly and let them do with what I have given to them as they will.
My life is filled with wonder and goodness. I love to share that with others, not because they need it, but because it is fun for me to share. I expect nothing in return. I do not expect them to say "thank you" or to be appreciative of whatever it is I have given. My only desire is that I am me and give because it is fun for me to give.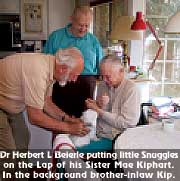 I love dogs. I thought it would be fun to give a dog to my sister Mae. I bought a tiny laptop Maltese that she could love on her lap. I spent some time training the puppy I call Snuggles to be house trained. Mae loved the dog, but the moment was not right for her to accept it. So I took Snuggles home for more training and to resubmit the gift in a month or so. Meanwhile I have the honor of this lively little scamp playing with my dogs Love and Button. Though Snuggles is a tiny bit of fluff, he asserts himself with the Mini Pin and the Schnauzer quite effectively.
I gave the gift. Receiving is delayed. I gave the gift. That is all that matters. I gave the gift because I wanted to give it, not because Mae wanted to receive it. I gave it because it was fun for me to give and fun for me to be myself and have fun. That is what life is all about.

-Dr Herbert L Beierle