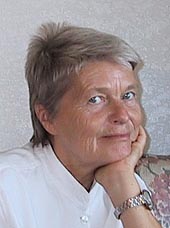 HAVE YOU EVER taken in consideration to go and live in a monastery? Maybe at one time or another the thought passed through your mind--just as it did with me when I was enjoying the most funfilling time at the early age of sixteen.
I was a student of a Monastery School the "Marienschule" in Moench-engladbach Germany, living with my treasured Aunt Maritza with whom I had a wonderful warm relationship. It was the week before Easter, the school had organized a three-day retreat in silence in a sister house of our school. In a short one-hour bus drive we reached the neat little Dutch village of Roermond, just crossing the border into Holland.
Never in my life had I given special attention to an explicit time of not talking, now I was expected to be still for three entire days and Three Nights,
I took this selfcreated opportunity to heart and promised myself to give my utmost. My dedication brought forth phenomenal results as I respected the purity of my outer and inner quietness. To my own surprise these three special days became momentous in my life. Something was happening I could not touch or explain. It was an inner explosion which reflected a divine beauty, a magic I was unaware of until now. The experience became so significant that sincere thoughts crossed my mind to enter a monastery.
It was thirty years later that this classic idea became reality. As an enthusiastic student of the University of Healing, I signed the vow of nonpossession (legally called the Vow of Poverty) and entered the Order of Absolute in 1986. I became a monk in the Absolute Monastery where after one year I was elected the Abbot.
I was aware that with my directive position came the responsibility to LIVE what I believed, to live the principle I had studied for a few years at the University of Healing by correspondence.
The precious teachings of truth became not only part of my life, they were ALL that I am. Although the correspondence courses helped me enormously throughout my first semesters, still living in Lugano Switzerland with my husband Helios and my two children Mariella and Diego, there came a time where I awoke to a more intensified personal study program. Eager to grow spiritually, I visited the campus of the University of Healing and stayed two weeks. The monastery life was simple, with little physical comfort but shining forth an inner balance and contentment.
The following spring I returned and enjoyed two wonderful months in the High Desert of Southern California. By following a daily schedule, I learnt to understand that the spiritual path does not know neither logic nor reason. Following my very first thought, my intuitive divine self nonjudgmentally leads me into nonpossession and ultimately to spiritual illumination.
Dr Herbert L Beierle, founder and dean of the University of Healing, and also founder of the Absolute Monastery, became my sharer as an outstanding living example of nonpossession, nonjudgment, untouchable ness, nonpossession, and unconditional love, His conduct of life astoundingly reflected my most innermost thoughts which I learnt to understand, accept and change into a mirror of purity. I released blocks of guilt, judgment, and comparison by given my attention to love, harmony, peace, joy and goodness, to all that I had studied in the UNI courses. Living at the Absolute Monastery became my drawing board of a perfect artist finding and using my hidden talents as a genius. I practiced and faced myself with that I was learning in many different areas. I lived with other equal minded spiritually searching dedicated students joining from all over the world, I shared, and I discovered myself in the most unexpected yet dramatic and triumphant ways. I lived 10,000,000 lifetimes in one.
The world of my divine mirror reflected not only in and through every student-monk living with me twenty-four hours every day at the Absolute Monastery, but as every UNI student I had the privilege to work with as the proctor and later as President of the University of Healing, as well as every being I dealt with in and around the community, such as bankers, lawyers, doctors, workers and what-have-you.
My first experiences as an initiated monk was learning to follow orders regardless of what I was asked to do. I will never forget my inner work of humility and attitude as I was told to collect the many doggy droppings around the campus. With a big plastic bag in one hand and a shovel in the other I carefully searched for the obvious and unobvious but so stinky poops. An entire night I worked on being untouched while letting go pride and judgment, fading it into the wind.
In this Serendipity of this month GIST issue, by Dr Beierle, you can read the rules and some of the daily procedures of the Absolute Monastery. Believe me, though the path is easy when the monks go with the flow, the end results are phenomenal, are illuminating. The gift I have given myself as a monk, to live with my fellowmen monks here in the high desert of a magnificent campus, cannot be compared with anything in the relative world. Who ever comes to the Monastery leaves a different person for the grounds are known as healing grounds -- by each visitorís own choice: accepting the truth within.
Being a monk reveals your ability to live in the world and not of it.
Are you ready to join the monks at the Absolute Monastery in Campo California and train yourself in spiritual awareness while being yourself and having lots of fun?
For information on the Absolute Monastery call: 1-888-463-8654.
-Dr Ellen Jermini