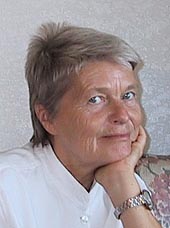 The outer appearance can blind my physical eye. The inner eye--my consciousness--reveals my reality.
It was on a warm autumn evening when the days became shorter and the sun had long set behind the mountains that I went for a relaxing meditation walk. Like usual, the air was pure here in the high desert and nature was enfolded in a lucid stillness.
As I wandered so along the meditation trails, all of a sudden I heard a strange noise. I stood still to identify what this cluttering sound could be and where it came from. Astute I turned right towards the majestic oak tree under which I had parked the 24-foot-motor-home, I called "Big Blue." Happy traveling thoughts in Big Blue rose in my mind when I cruised along the idyllic Californian coast getting to know this precious Golden State with its historic missions and its white beaches, its natural forests and large freeways.
Absorbed in my adventurous thoughts, I unexpectedly stood in front of a giant stranger I have never seen before. His gargantuan figure in front of me was outlined by his long black hair and long curly beard. It reminded me of the Philistine champion Goliath I knew from my Bible lessons. As strange as this meeting could have appear-ed to anyone in the darkness, it instantly found its charming explanation.
Big Blue had an engine problem which I wanted to be resolved as fast as possible. The easiest way to have it fixed was to call our neighbor Steve, who was recommended to me as a reliable auto mechanic. Steve promised to come over one of the following evenings.
Now on my walk, I certainly did not think either of Big Blue or a repair man.
Out of the dark appeared this gigantic stranger hidden behind Big Blue. In the brightness of a special flashlight, he was diligently working on the engine. Unexpected! I realized that his outer appearance did not surprise me or keep me from welcoming this man with a loving, Good evening.
A warm voice sounding from behind Big Blue responded, "Good evening, I am Steve, your neighbor. I came to fix your motor-home."
I smiled and shook the giant hand of my friendly neighbor who dedicatedly examined Big Blue to make it run properly.
Since then Steve has been my gentle giant, my friendly responsive neighbor who is always ready with a helping hand.
Just recently I called Steve for a problem with my golf cart.
"Ok, he said, I am not into golf carts but I surely can find a solution for you." He indeed had!
I had not seen Steve for some months; I noticed that he had lost some of his oversized features. We spoke about his health, his family, his job and his life. Together we shared the great value of our thoughts, how we manifest beneficial and unbeneficial experiences through our thinking. Though he had heard me sharing my philosophy casually many times before, he NOW understood and accepted the responsibility of being positive--this after so many years of our being acquainted.
"Oh, I see," he repeated several times, as he listened very attentively. Then he asked, "May I have some of the UNI literature?"
Of course, I happily went into the house. I gave him some GISTs, and other UNI reading material.
"I am reading them," he told me yesterday on my visit to his home. Steve had called us saying, "I have some fresh vegetables from my garden. Would you like to pick them up?" I drove over to his house and again we chatted at length. His soothing voice sounded like lovely meditation music, calm, gentle, caring confirming one of his daily statements, I am whole and perfect, I like me, I am in charge of my life. All is in divine order.
Over the years Steve has been a supportive neighbor to the University of Healing and our staff. I have seen his children born, now intelligent good looking teenagers, the pride of a caring father.
It is an honor to be treated to his personal selfconfidence, respect and honor. His attitude is always heart warming.
In Steve I really met ME, my nonjudgmental, loving, unlimited divine self.
-Dr Ellen Jermini