Stopping in New York and New Jersey on my way home to Californina from Guyana, made my seminar tour complete. A blue sky and the warm April sun greeted me during my one-week visits with UNI students and friends.

A Risen Consciousness For The New Millennium was the title of a seminar UNI student, Rev Kennard Davis, minister of Truth Center For Higher Consciousness, set up at the restaurant For Goodness Steak in Brooklyn. With Hilton Hamordingís soul stirring musical accompaniment I sailed into this deep philosophical subject and shared.

You and I are the creators of the new millennium! We live in this risen consciousness by being in control of our thoughts, words and deeds.

We live using divine wisdom NOW the only time existing. We listen to god within and we know our priorities. Often we think we need to teach, preach and heal the world outside of us but in reality there is only the world within us, ours individually. That is why we knowingly affirm: Now there is peace on Earth and it began with ME! Since we are practitioners, we first heal ourselves!
What a joy to greet among a full house: UNI students Rev Patricia Gibson from Atlanta, Rev Roland Edmond from Florida and New York, Rev Dr Louis Knight from New York and Rev Kennard Davidís wife Claire, treasurer of the Truth Center For Higher Consciousness, Marjorie Jones, mother-in-law of Rev Kennard and sweet little grandson Narrower Davis.
Wherever I travel there is a home awaiting me. In New York artist Dina John, daughter of UNI student Rev Evelyn John, minister of New Life Center Of Truth lovingly hosted me. Dina and I many spent happy hours together discussing philosophy; she matriculated as a UNI student.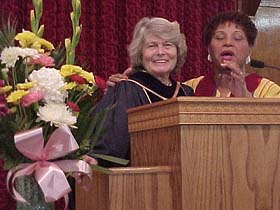 To speak in the vivid New Life Center Of Truth in Brooklyn is always a spectacularly honorable event. Founder and minister Rev John loves life. This is reflected in her enthusiastic congregation and her successful ministry. In my Sunday morning talk on Tithing I said tithing is not only giving money, tithing is being our divine self lovingly sharing a smile, speaking an encouraging word to someone who is unhappy. Tithing is being a caring listener for a friend who likes to talk or doing little treats for even someone we do not know very well. Unconditional giving is priming our own pump with the recognition of our independent wealth. We live what we believe about ourselves, we live the truth that we are perfection in spirit, mind and body.
From Brooklyn a caring church member from Rev Johnís church drove me to East Orange, New Jersey. There in the afternoon service Rev Egerton I had missed meeting in her church in Guyana welcomed me along with her daughter UNI student Joy Clarke and UNI student Patricia Shivdat. In my talk to the congregation I referred to the teachings of Jesus, saying the kingdom of god dwells in every man, we are kings, we are gods, we are all that god is. We sang I am God, God I am and celebrated the oneness of the congregation.
From the Temple of the Abundant Life, minister and founder Rev Ingrid Chance was honored on her tenth anniversary of God Unlimited ordination and in a circle of six UNI student we held hands: Rev Egerton, Rev Chance with her assistant minister UNI student Rev Celestine Morgan, UNI students Joy Clarke and Particia Shivdat and myself. A lovely dinner was offered to ministers, teachers and congregation.
Rev Patricia Shivdat and her husband Latchman generously hosted my two-day stay in New Jersey.
Among my visits in Brooklyn were meeting with Rev Dr Marie Ulah Heiliger and her husband Winfred a most lovely couple I had heard much about and UNI student Julia Melchoir who is finishing her Bachelor of Philosophy degree.
My visit at the Truth Center of Divine Awareness with minister Rev Marva Edmonds and at the Divine Center Of Truth with Rev Dr Joy Thomas was entirely too short. In both churches we had adventurous philosophical discussions. Referring to the Bible story of Adam and Eve, we discussed the symbology of our human game, eating of the tree of the knowledge of good and evil. We watch TV, we read the newspapers, we listen to tales of woe and pretend to live in paradise. The Garden of Eden is right within us. We are gods, we are absolute and to intellectually understand this concept, we unlimit ourselves. We are divine, we are spirit, we are all that is, both good and evil, all according to our belief, each an IS, our unchangeable reality.
I delighted to see how all UNI students share their godself. The Christ consciousness of Jesus is in their heart. They know the Christ consciousness is their reality and not the physical man Jesus.
We are a wonderful spiritual family god unlimited in all that we are.
•