EJ Shares - Spring 2006 Issue
Seed Planting Is Natural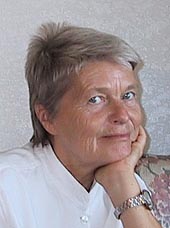 I was shopping in a grand food store in San Diego looking for some special bread. Arriving at aisle seven the delicious scent of mouth-watering bakeries assured me that I was close to the correct site to find my bread. Marching along the aisle my way was blocked by a store employee, Larry whose name was stamped on his dark blue work suit. Larry was a middle age chubby Mexican type man who kept the clients safe from a busily working lift truck. I enjoyed observing the competent driver of the truck how he skillfully placed huge boxes of merchandise high up on the unreachable shelves. Larry's dark brown eyes expressed a responsible seriousness. He made sure nobody stepped into the path of the lift truck.
I could not hold my feelings while watching the lift truck driver and with a genuine enthusiasm I said to Larry, "Wow, that's fun! That's fun to drive such a truck pushing the different buttons to lift packages up and down."
"What," he responds rather annoyed by my childish comment? "If you had to do this work every day for years like we do it, you would not make such a statement. It is boring hard work," he heaved a deep sigh toward me.
His answer rather startled me as I saw the big gadget as a toy playfully used by the driver. To me it looked like a lot of fun especially remembering my little son Diego when he was five. So I told Larry my story.
"You know, when my son was about five years old he wrote to Santa praying and begging him to bring him a lift truck for Christmas. Oh yes, it was my little boy's greatest dream, his only dream that year when we came home one winter's evening after a long shopping tour. He had seen a lift truck operating in a toy warehouse and nothing in the world could move my little angel from that store. His admiration for such a truck became his reality; he was ready to climb in with the driver to push the buttons and play. For years he told us that he wanted to be a lift truck driver, that this was his dream for when he was a grown up. Diego thought it the greatest toy ever seen. I remember having such a hard time to get him out of the store just because he fell in love with the lift truck and the friendly man who operated it. He saw fun in the big toy. Children know life as fun; while we adults might learn from their playful attitude."
"Hmmm, I had never thought of my work like this," Larry responded, brightening up from his serious look.
Once the way was cleared from the lift truck, I went to buy my bread and continued doing my shopping forgetting my little episode with Larry.
Almost at the end of my shopping tour I meet Larry once again. I am in the process of picking up some rolls of paper towels when I pass a lady who is trying to lift a huge heavy package under her cart. I step sideward to give her a hand, holding firm her cart. As I turn around, there is Larry standing next to me with a lovely smile saying, "How did I miss it to help this lady. Ladies are always first. How could I rather stand around and wait for the forklifter." We all laughed and before I could give radiant Larry my answer he smilingly replied,"Well, I had fun in what I was doing! I had fun!"
Sometimes seeds grow fast and are visible, sometimes we never know about their sprouting.
—Dr Ellen Jermini