GIST MAGAZINE
Autumn 2008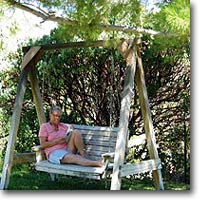 Swiss student Beatrice Enz reads her lesson in the Absolute Monastery garden with Rex at her feet.
In This Issue:
God's Pocket
An Amish Miracle
Serendipity
Wild Metaphysicians!
EJ Shares
Giving-Receiving
Practitioner Letter
Practice, Practice, Practice
Affirmation Column
Happy Birthday Celebration
Ingeborg - Autumn 2008 Issue
Happy Birthday Celebration
I LIKE ME. I just had a wonderful party for my 25th birthday of course - I was born in 1925 - the year of my eternal age.
To the birthday party came all the Campus monks and my other friends from all over the world. I hugged and kissed each one of them unconditionally. I like being 25, being a super woman and being appreciative for just for what I am.
The grandest joy came from one of my relatives, who had never before remembered my birthday--in the early morning of my birthday she called me from Italy. We laughed, talked and cried. I felt so good. I jumped for joy.
After the evening dinner I enjoyed the surprise of one candle on a huge chocolate cake with whipped cream and ice cream. The cake was a delight. For the occasion they toasted me with a glass of special sparkling cider.
Golly, I love being a monk - at 25 years of age - and celebrate my birthday in oneness and happiness with all my friends.
I surround myself and my world with my pure white light of love.
—Dr Ingeborg Puchert