EJ Shares - Autmn 2010 Issue
On The Way To The Mailbox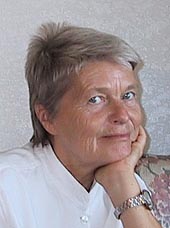 LIFE IS AN amusement park where I have lots of opportunities to entertain myself. My choices make my living shows more fun even the most normal habitual day activities.
I live in the backcountry of Southern California, in a rural area, where the postal carrier still delivers and collects mail along the county maintained roads where among many other postboxes the UNI mailbox stands.
Twice a day I drive one and a half miles to take andpost the UNI mail, rolling down some wiggling dirt roads northeast of the UNI campus. Within a few years the profundity of a high desert open area changed into a modern quarter of happy homes. Rural communities have such a distinctive quality appealing to people who seek room for animals like keeping a horse arena and a refuge to live a quiet life. In fact most of our neighbors keep horses, sheep, goats, geese, chickens, dogs and cats, all enjoying their eight-acre-yard romance out in nature's high desert.
Over the past few years I would drive by vast fields of buckwheat and Manzinita bushes; now friendly neighbors wave at me from their happy homes there. Every house reflects the owner's creative imagination and the joy for their new paradise.
From time to time, over the years, homeowners sell their place in paradise because the value of the land is so much greater than it was when they made their purchase. Meeting new neighbors is always a charming delight as I watch what the new landowners are doing to the property formerly so gloriously held by the previous owner.
Debbie is an illustration of a lovely change.
My Home—My Treasure
AN AMAZING CHANGE happened when after a few short months Debbie, as the new buyer, moved in at the corner of our subdivision adjacent to the UNI campus.
I was soon to learn Debbie is indeed the princess of magic spreading her pixy dust of zest and enthusiasm on her eight-acre-paradise. She was turning black into white—salt into sugar—metal into gold. Though a Californian heat wave peaked, Debbie's industrious fast working elves—family and friends—went wild to doll up Debbie's castle.
Overnight they sparkled-up the dull color of the house, painting windows and doors with a white frame—giving it a warm friendly touch. Lovingly they planted flowers and trees in and around the yard, sowing grass in front of her gracious patio. Everything from her birdfeeders, garden statures, birdbath fountain, antique tractor wheels, farmer tools—innumerable antiques she had collected and treasured over the years, were festooning their perfect place in her yard.
An amazing change in a very short time!
Debbie's beloved three dogs—a big black bulldog and two black Labradors—survey the property with unconditional love. They are her shadow during the day though they own their doggie-huts in a special fenced area.
"My grand children love to visit me," Debbie sighs with a twinkle in her blue eyes as we met at the mailbox. "I crawl with them into their blue doll house, you see it under that big Live Oak tree, which I filled up with lots of toys so we can all have fun together."
Hundreds of solar lanterns fence Debbie's yard illuminating it in the evening along the entran-ces and pathways to her house, welcoming guests to her fairyland of magic.
I love my drive to the mailbox. It gives me more excitement than I could ever have imagined before!
—Dr Ellen Jermini