EJ Shares - Winter 2011 Issue
The Spirit Of Ecstasy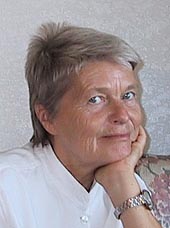 IT IS A SPECIAL warm late afternoon in early December. The profundity of nature in its simplicity here in the High desert is fascinating. The air is serene and pure an inhaling delight inviting me to a short walk.
Monk Ingeborg also steps out of the Monastery House to take a walk. She stops - stands still for a moment, unwearyingly leaning on her luminously red "walking aid," she calls it her Rolls Royce. Embraced in the warm late afternoon light, she absorbs the blissful atmosphere. She stirs her glossy "rolling friend" easily on its four small wheels, which gives her comfort for longer, stable campus walks. Her Rolls Royce also offers a folding seat she likes to use to sit and "smell the roses". The seat opens up to a small storage space where she neatly keeps her gardening gloves and tools, always using her landscaping skills.
With resolute enthusiasm she follows the trails winding up and down, through hills and valleys skillfully holding on to her walker. Each step confirms her determination even while rolling down hill, like steering in fifth gear, rather fast but having real fun. She knows that both gearing bars are set up with ideal brakes to regulate her speed. In amazement I watch how much she loves driving her new gadget fully focused on her exciting adventure. Not even her much too big flip-flops she inadequately chose to wear on her feet seem to disturb her. All she is aware of is her beloved new Rolls Royce.
Taking the last deviation to arrive at my home, I see Ingeborg turning further away from the Monastery, obviously enjoying her driving walk.
I sit at my computer checking out my e-mails. Concentrated on the many interesting messages from friends and students all around the world, I suddenly hear from within: take the car and drive up to the Monastery. I look out of the window and recognize that outside it is now pitch dark. Instantly I affirm All is in divine order and follow my inner voice.
As I arrive at the Monastery, there are no lights, neither inside nor outside the house, and obviously no sign that Ingeborg had returned home. I call: Ingeborg, Ingeborg, Ingeborg - and out of the deep night echoes her answer: Here I am, just here … off the road!" Lo and behold there she "hangs" trying to make her last steep step up to the concrete Monastery driveway. Rather worn, she smilingly admits: "My Rolls Royce is great. I had so much fun but I forgot time and space."
Her Rolls Royce is stuck in the soft sand of the steep trail and as there is no tree nor branch nor bush to grasp, nothing to hold onto, she prays: "I am divine order." In this moment she heard me arriving.
Her big clogs fell off in the deep sand and there she stands in her socks giggling and laughing, happy to see me.
You are a clown, I confirm, you had an easier choice of road to come home, but here I am to give you the necessary support.
We entered the Monastery, switched on some lights and with it the twinkling candles of our colorful decorated Christmas tree. We finished our exciting evening of spiritual ecstasy in a lovely Christmas atmosphere with a warm cup of tea, some freshly baked cookies and felt both happy and fulfilled.
—Dr Ellen Jermini