EJ Shares - Summer 2011 Issue
Waking Up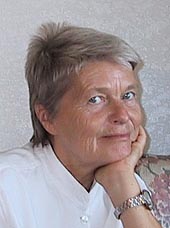 The two-day UNI seminar in New York was an exciting event. I was introduced to ministers and bishops of different religious beliefs and our philosophical sharing time flew by far too fast.
Jason, a UNI student and the young church musician offered me a ride back to the airport. Giving a fleeting glance to the back seat of his car, I recognize Emily, one of the choir singers of the church where I gave a talk. Silently, yet in accordance with Jason, she had sneaked into the car to ask me some very important questions.
She appeared rather timid and a humble woman whose inquiries came to me as a surprise: What do I have to do to become a minister?
Instantly I opened my handbag and handed her the UNI-Syllabus—which gives detailed information on the University of Healing and all courses—saying: As you read this booklet thoroughly, you will know from within if you want to become a student of the undergraduate course of the University of Healing and become aware who you really are.
Does this undergraduate course give me the degree of being a minister, she kept focused on her question.
No, this gives you a sound philosophical-religious foundation to be a spiritually aware person and also an exquisite minister, to know, share and live the principle of life while becoming also alert that you are a divine being.
How long does this undergraduate course take and what do I have to do next to become a minister? She was sincerely interested.
As I turned back to her, I saw her eyes sparkling in inquisitiveness and excitement, letting her real character shine.
It takes you eight months to a year to finish the undergraduate course and to receive your degree of Bachelor of Metaphysics. However, depending on your dedication to these illuminating spiritual studies, you are able to take the Ministerial course at the same time. That means you CAN be ordained in one year and be a well-prepared extraordinary minister by your choice.
Our one hour trip to the airport finished with a heart filled good-by hug as Emily whispered gratefully in my ear: I DO IT!
Emily's word was her bond. She took the required UNI programs and became a minister. She opened her own church and felt that one of her greatest dreams was revealed.
For several years she shared her belief to a certain extent, becoming rather more intellectual and biblical than spiritually sharing from her heart until one day she gave me a call.
My church is good, but I have closed my church, she admitted with a low voice. BUT—with a now rising enthusiasm she announced: I want to continue my spiritual studies. I realize that MY life is more important than anything in this world. I want to take more quiet time for myself, to do my meditations and introspections and feel happy from within.
With determination she emphasized: Dr Jermini, I am god and I know it but—for a time I forgot. I am on my way again. I sign up for the graduate course and do it now.
Emily has almost finished her graduate course as an outstanding student who soon will receive her Master of Metaphysics degree. She lives her life for herself yet being a living example of her inner beauty which she shares silently and unconditionally. The world is her congregation and she is very happy.
—Dr Ellen Jermini