EJ Shares - Summer 2013 Issue
Being Human Is Tough, Being Divine Is Easy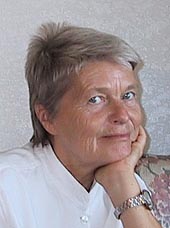 Being human means to live in duality and this is confusing and tough. That is why occasionally I asked myself, How did this experience happen in MY life? Though I am aware that thoughts are things, I still sometimes dare to pose the question: Why ME Oh Lord?
I might put the probed situation aside pretending: It just happened by chance or an outer force brought it forth. As unassumingly this is done, I KNOW it is not the truth.
It is a beautiful morning in August when I wake up from a long relaxing night sleep. A unique bubbling feeling makes me recall: Hurray, TODAY IS MY BIRTHDAY!
I always look forward to my special day with a childlike happiness praising it with gratitude for being born in this wonderful world.
My bubbling joyfilled attitude inspires me to get up and be ready for a fun day. In program is a festive lunch-buffet in a special restaurant together with lovely friends and of course to get dressed up for the occasion. Smile!
I choose my favorite white pants but hold on to reflect on a charming matching top. Trying to make an appropriate choice, I pick up a new light green silk-like blouse I recently purchased for special occasions. This will be just ideal today, I think, caringly sliding the blouse from its hanger. With pleasure I look at the precious shirt when suddenly a flashing thought crosses my mind: If I spill food on it? Quickly I ignore my slight hesitation ofdoubt andslip in the fine fashioned new blouse, self-importantly admiring my perfect choice in front of the mirror. Now I am ready for my lunch-buffet and off I "fly" to the Vieja's Casino Restaurant, a thirty-mile drive from home.
My drive is blessed with a dense heavenly shower, which Californian nature is longing for. My treatment for blue sky and all is in divine order reveals itself just before arriving at Vieja. Giving a fleeting glance to the entrance of the restaurant, I am spoilt with their royal costless valet parking service—a real neat deal complimenting the festive occasion.
The restaurant is an attractive spacy place crowded with "starving" looking people who tank up the countless food-attractive buffets; I am puzzled where to start and where to end, what to pick and what to skip to fit my modest appetite according to the size of my little stomach. Smile!
The food is delightful but being in the company of precious friends tops my birthday party. We chat and laugh and have a wonderful sharing time together.
My noble Italian-European tradition likes to end a sumptuous meal with an exquisite cup of coffee. The friendly responsive waiter instantly cares for my wish reverently filling my cup with a freshly brewed coffee. My eyes twinkle in delight alleviating the pleasure of the appealing aroma. I take a short sip adoring the tasty Italian Mocca flavor thinking that is so good! However, in an instant, an inattentive gesture spills the entire cup of coffee over my precious white slacks and my new green blouse baptizing my glorious outfit with big spots of coffee.
OK, I say to myself: Being human is tough WHEN I forget to put a new cause into motion and allow such undesirable effects to happen.
Instantly Icalled myself to order KNOWING my washing machine and my positive attitude will clean up this mess. I laugh, take it easy and thus enjoy again my perfect white pants and my lovely green blouse remembering that being divine is easy and that means all the time: ALL IS IN DIVINE ORDER.
- Dr Ellen Jermini